"Mr. Hockey" Gordie Howe, the greatest goal scorer of his generation – as well as being one of the toughest players from that era – passed away Friday morning (June 10) in Ohio.  He was 88.
Howe lived up to his nickname "Mr. Hockey" by leading the Detroit Red Wings to four Stanley Cup championships during the 1950s.
Two years ago, the Red Wings' all-time goal-scoring leader suffered a series of strokes that left him temporarily paralyzed.  Soon after the first stroke, Howe traveled to Mexico where he underwent the first of two stem-cell treatments, which seemed to reverse the effects of the stroke.  Since that time, Howe returned to Joe Louis Arena twice, including his final visit three days before his birthday last March.
He still holds franchise records for most goals (786), most points (1,809), and most games played (1,687).  Howe led the league in scoring six times, won the Hart Trophy (MVP) six times, and made 23 NHL All-Star Game appearances – the last at the Joe Louis Arena less than two months shy of his 52nd birthday in 1980.
Mr. Hockey played professionally for five decades, including his first 25 seasons with the Red Wings, from 1946-71.  He still holds more franchise records, including most power-play goals (211) and game-winning goals (121).  He also scored three or more goals in 18 games, a team-best that he shares with Steve Yzerman.
Gordie Howe was inducted into the Hockey Hall of Fame in 1972 and will forever remain in the hearts of all Red Wings fans, young & old, as well as regular hockey fans in general.
STATEMENT FROM PRESIDENT BARACK OBAMA ON THE PASSING OF GORDIE HOWE
The list of hockey players who suited up in six different decades, including returning to the ice after being inducted into the Hall of Fame, is a short one: it starts and ends with Gordie Howe. But the list of kids who skated around the pond until dark, picturing themselves passing, scoring, and enforcing like Howe, dreaming of hoisting the Stanley Cup like him – that one comprises too many to count.
Howe's productivity, perseverance, and humility personified his adopted hometown of Detroit, to which he brought four championships and which he represented as an All-Star more than 20 times. The greatest players define their game for a generation; over more than half a century on the ice, Mr. Hockey defined it for a lifetime. Michelle and I send our condolences to his sons and daughter, his family, and his loyal fans from Hockeytown to Hartford to Houston and across North America.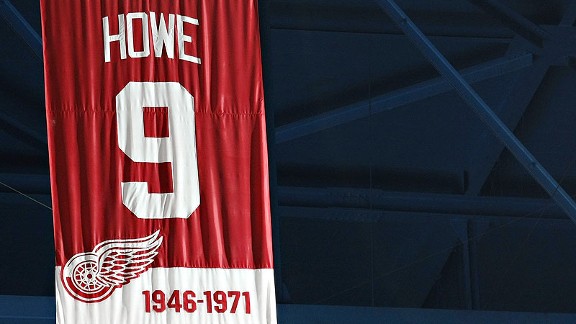 Admin




Posts

: 3912


Join date

: 2010-12-16




---
Permissions in this forum:
You
cannot
reply to topics in this forum